Lafayette Memorial Park Cemetery & Mausoleum in Broussard, Louisiana, offers a serene and sacred space dedicated to honoring memories and providing peaceful solace during times of grieving. As compassionate resting places we understand the profound significance of remembering loved ones while offering families comfort during such difficult times. Call us today at (337) 235-3062 to schedule a visit or discuss our pre-planning services.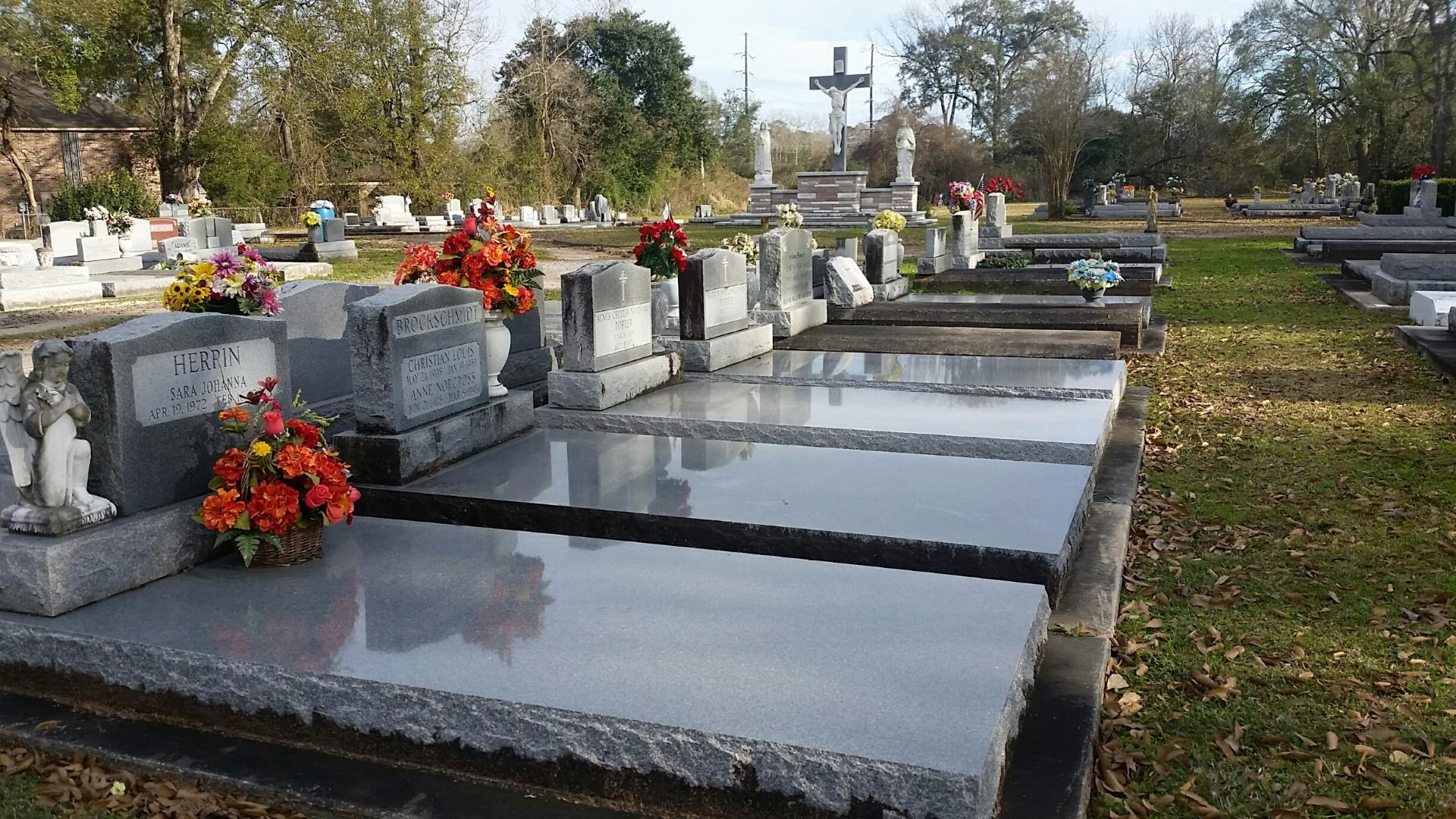 Cemetery Services in Broussard: Remembering Our Loved Ones
At Lafayette Memorial Park Cemetery & Mausoleum, we offer an array of cemetery services tailored to suit individual preferences and ensure lasting remembrance. Whether families choose traditional burials, mausoleum entombments or cremation services for their loved ones, our compassionate team is always on hand to support and guide them toward making the appropriate choice. Every life deserves to be celebrated through personalized tributes that reflect its journey – we believe that.
Lafayette Memorial Park Cemetery & Mausoleum in Broussard understands the profound importance of honoring loved ones with compassion, dignity, and respect. Our cemetery services have been meticulously planned to offer a peaceful resting place where your memories will continue to live on for years to come.
At our cemetery, we offer various options to meet the diverse needs and preferences of families seeking to honor their departed loved ones. For those who prefer the traditional route, our landscaped grounds provide beautiful settings for burials that create a tranquil space for reflection and rememberance. Each gravesite is meticulously maintained so families may find comfort and solace here.
Families looking for above-ground interment options will find our mausoleum an enduring tribute. Offering various crypt and niche options designed to honor those buried inside, as well as peaceful visitation options, its architecture and aesthetics reflect the significance of all lives interred here while offering comfort and reflection space for family members and friends.
Historical Significance: Lafayette Memorial Park Cemetery and Mausoleum
Lafayette Memorial Park Cemetery & Mausoleum in Broussard possesses immense historical value that goes far beyond simply serving as a place of final resting place. As sacred ground, our cemetery stands as an important reminder of past generations as well as an indicator of regional culture and heritage.
Established decades ago, our cemetery has served as a witness to the development of Broussard, Louisiana and has become the resting place of many individuals and families who played instrumental roles in shaping its identity and culture. Their names, etched into stone memorials, stand as testaments of their lasting legacies that continue to inspire future generations.
As custodians of this legacy, Lafayette Memorial Park Cemetery & Mausoleum takes great pleasure in upholding and honoring those who have gone before us. We recognize our responsibility in maintaining this sacred space to ensure it will serve future generations with dignity and honor. Lafayette Memorial Park Cemetery & Mausoleum acts as an intermediary between generations past and present, reminding all of us about the lasting spirit that ties us back to our roots as well as leaving a lasting mark for posterity.
Pre-Planning Services: Securing Your Legacy
Pre-planning allows you to take control of your end-of-life decisions, and ensures your wishes are clearly communicated. By pre-arranging cemetery services, pre-planning helps relieve family from having to make difficult decisions during emotionally charged times – so they can instead focus on celebrating life while finding comfort knowing all arrangements have been carefully considered and put in place for their loved one.
Our caring team is here to guide you through the pre-planning process, exploring options and answering any of your questions about burial, mausoleum entombment or cremation services that fit your preferences and create a customized tribute that reflects the journey that life has taken you on.
Pre-planning also gives you the opportunity to secure your memorialization options, from headstones and monuments to other commemorative features – so your memories will continue to be honored for generations to come.
Memorial and Remembrance Options: Cherishing Memories Forever
we understand the power and emotional meaning of memorialization is to make memories enduringly precious for you and those close to you. At our cemetery, we offer various options designed to pay a fitting tribute to all those we hold close.
Traditional burial services often provide families with exquisitely designed headstones and monuments to memorialize their loved one's life and legacy. Our compassionate team works closely with you to customize each memorial according to individuality, passions, and contributions of your cherished family member.
Our mausoleum offers an elegant and dignified alternative for above-ground burial, providing peaceful spaces to visitation and reflection for loved ones of those who have passed. Families can select among various crypt and niche options available within its graceful architecture for visiting and remembering loved ones who have passed. As an oasis of remembrance, loved ones may draw comfort and strength from sharing memories shared between themselves and those they've lost.
Conclusion
For any inquiries or assistance, you require, Lafayette Memorial Park Cemetery & Mausoleum's friendly team is only ever an email, call, or message away. With multiple channels open for inquiries and services available to support you on this journey of honoring life and memories, Lafayette Memorial Park Cemetery & Mausoleum takes great pride in the heartfelt testimonials received from families we have served that affirm our dedication to compassion and respect; serving Broussard Louisiana has always been our privilege and it is an honor to pay respect to legacies that have made Broussard stronger!
Cemetery FAQs
 How can I find the location of a specific gravesite or memorial within the cemetery?
Our compassionate staff can assist you in locating a specific gravesite or memorial within the cemetery. Simply reach out to our office, and we will be glad to provide you with the necessary information and guidance.
 How can I contact Lafayette Memorial Park Cemetery & Mausoleum for more information or to make arrangements?
You can contact us by phone at (337) 235-3062, or you can reach out to us through our website's contact form our Contact us page. Our caring and dedicated team is available to assist you with any inquiries or to schedule appointments at your convenience.
Can I pre-plan cemetery arrangements in advance?
Absolutely! Pre-planning cemetery arrangements is a thoughtful and caring gesture that allows you to make decisions in advance, relieving your family from this responsibility during emotionally challenging times. Our team is here to guide you through the pre-planning process and ensure your final wishes are respected.